Western Front Anzac Day Tour 2018
Review by Peter Symons from Boronia Travel
Peter Symons from Boronia Travel has recently returned from another successful Anzac Day tour on the Western Front, which was led by the wonderful and knowledgeable battlefield guides
Graeme Beveridge
and
Nick Fletcher
. We asked Peter about some of the highlights of the trip, which is perfect for anyone thinking of travelling with us to the Western Front in 2019.
What was the highlight of the Anzac commemoration ceremony?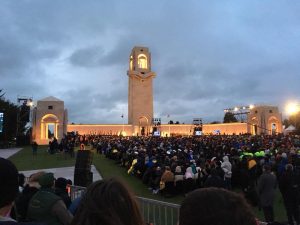 For me, the moment that sent shivers down my spine were the haunting sounds of the bugle playing the Last Post from the top of the tower at the Villers Bretonneux memorial, with the sun rising in the distance. That is a really powerful moment to reflect on, and just the sheer loss of life we encountered on the Western Front in WW1.
Why did you enjoy travelling with this particular group?
I really enjoyed travelling with both tour groups who participated in the Anzac Day Centenary Tour. Everyone was approachable, easy to talk to, and most of all, great fun to be around. What I found really intriguing was that they had a different story to tell and it was just great to sit and listen to their reasons for being in France for the Centenary, and what their day-to-day lives entailed back in Australia.
What was your favourite money-can't-buy experience?
It had to be the special service put on by Collete and the locals in Riencourt. To be able to share such a special moment with local French people who work so hard to keep the memory of our troops alive, and to still have such respect for what they did for the region and how they fought for their freedom, is very touching indeed.
What was your favourite restaurant/foodie experience?
The lunch with the locals was obviously a highlight, but for me it was the lunch we had at a restaurant near the Passchendaele Museum which served up the most deliciously tender and moist turkey I have ever had. It was a very tasty surprise!
What was the highlight of the Farewell cruise?
The Farwell Cruise is a wonderful way to finish watching the City of Lights come to life and is always spectacular. But the real highlight is right and the end of the cruise, after having had a wonderful dinner, and saying farewell to everyone under the Eiffel Tower as its flashing lights take full effect. That's always a special moment for everyone as it just the perfect way to cap of a wonderful trip.
Have you received any testimonials from the tour?
I have received a lot of direct feedback form people on the tour just saying they got more than they expected and were so please with the service and content provided by our guides was spot on. In fact, there are many who are already looking to book on another trip with us, which is always the ultimate complement and is what we strive for in every tour we offer.