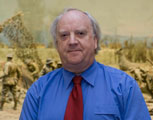 Peter is a senior historian at the Australian War Memorial, and is its longest serving employee, He joined the Memorial in 1973 as a curator, and was involved in the development of collections and exhibitions for more than 30 years before joining the Military History Section. He has worked on numerous permanent, temporary and travelling exhibitions. These include, 1918 – Australians in France, Forging the Nation, Master of the Battlefield, Dawn of the Legend, Fifty Australians, ANZACS in France, 1916, Striking by Nigh, and, most recently, Advancing to victory, and Over the Front.
He is an acknowledged expert on Australia's role in the First World War. He first visited the Western Front battlefields in 1986 and has been there regularly ever since. He has visited Gallipoli, and has accompanied various tours to France and Belgium including the Australian Defence Force Academy tour, two Four Corners tours, and for more than a decade since 1994 has led every one of the War Memorial's annual tours to the Western Front.
He is a writer of note, having contributed more than 20 military entries to the Australian Dictionary of Biography and is a member of the dictionary's Armed Services working group. He is the author of the book, The Nek – The Tragic Charge of the Light Horse at Gallipoli. He has written for the Oxford Companion to Military History, and the Oxford Companion to Australian History, is a regular contributor to the Memorial's magazine Wartime and various other military history journals and has written for Department of Veterans' Affairs publications. He regularly gives lectures.
Peter Burness has also recently helped Channel 7's Sunday Night Program uncover a precious trove of WW1 photos which were lost in an unused french barn for nearly 100 years. The incredible cache of 3000 glass plate photographic negatives feature Australia's first diggers on the Western Front. For more information about the full collection of Australian and international soldiers please visit: facebook.com/lostdiggers.