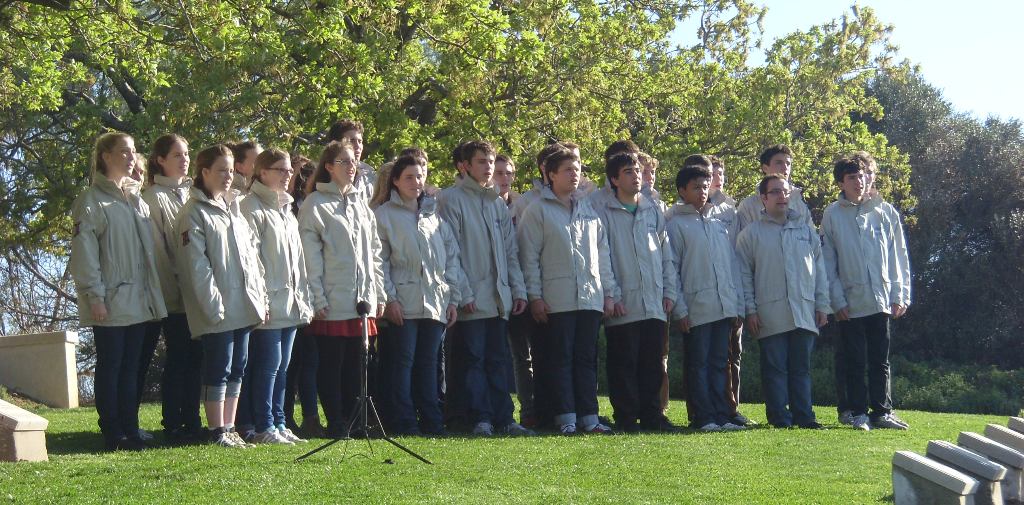 For nearly 20 years Boronia Travel Centre has been providing military history tours for school groups which are designed to suit their specific needs. Batt
Boronia Travel Centre is also the most experienced and knowledgeable battlefield tour operators from Australia. Our team regularly visits the battlefields and can assist with any inquiry you may have. No other battlefield agent can offer this real point of difference which ultimately benefits your school group.
We also offer information sessions for parents, teachers and students about our tours to Gallipoli and the Western Front, which is of key interest as we commemorate many centenaries of First World War battles.
All school tours conducted and organised by Boronia Travel Centre are fully sanctioned by all appropriate regulatory bodies. Boronia Travel Centre is also a fully accredited ATAS Travel agent, which means your booking is fully protected and that your school group can travel with confidence. We are a trusted and reputable travel agent that has been around for more than 35 years. Plus we'll always give you the 'personal touch' to make sure your holiday is the best one yet.
Previous Battlefield Tour School Groups
The Simpson Prize
Penrith Anglican College
St Pauls Anglican Grammar School
Toowoomba Grammar School
St Josephs Gregory Terrace
All Hallows School
State Students Prize Winners ACT
Official Student Group
Ipswich Grammar School
Loyola College Spirit of Anzac Prize
St Frances Xavier College
Contact us today
If you would like to know more information about organising a battlefield tour or to get a quote, please feel free to contact us on 1800 035 350 or complete our enquiry form.
Testimonials
"It gives me great pleasure to write my personal comments as to the quality and efficient services Boronia Travel Centre provides for both Gallipoli and Western Front Battlefield Tours.
Mr John Waller, the principal of Boronia Travel Centre, discussed with me at length what it was I required in such a Study Tour designed specifically for students, their family members and others associated with the College who may be interested in joining us. John carefully designed a 14-day Istanbul/Gallipoli/Troy tour culminating in attending the Dawn Service at the Anzac Commemorative Site. The itinerary planned by Boronia was exemplary and catered exactly to the needs of a varied group. Despite the limited accommodation options available at Gallipoli, we were provided with a high standard of facilities. Selection of restaurants and leams options were varied and catered for all dietary tastes and requirements.
Penrith Anglican College again used Boronia Travel as the provider to the Western Front and to London. The same outstanding service, accommodation arrangements, guides/translators, coaches and coach drivers were provided.
Our experience with Boronia staff has always been positive. All issues and requests, either prior to departure or on the ground, have been approached in a professional, helpful manner always resulting in a satisfying solution. Guides and historians are experienced and knowledgeable and have always engaged tour participants of all ages by enthusiastically sharing their passion for both the history and culture of the areas visited.
I commend Mr Waller and his staff for their attention to detail and for their tireless efforts in meeting the travel needs our our travel groups that have included a wide range of age groups. i have no hesitation in recommending their services or any group organisation seeking a highly competent, flexible and professional company that seeks to provide a unique experience tailored to the requirements of their clients. I plan to use Boronia Travel Centre for all of our future battlefield Study Tour arrangements."
Mr Neil Marshall
Head of Technical and Applied Sciences Faculty
Penrith Anglican College, Sydney
"On behalf of myself, the Terrace staff, students and parents who travelled to Gallipoli, I would like to thank you and your team for the support, guidance and encouragement we have been given over the past six years.
The experience and opportunity bestowed upon our College has been, for many, a once in a lifetime occurrence. Our young men were honoured to have had the opportunity to participate in this significant event.
This opportunity has seen the chori represent College and country for live audiences in the thousands and a television audience reported to be in the millions at six Dawn Services, five Lone Pine Services, one Battle of Lone Pine Service, a world premier of the Gallipoli Symphony at Hagia Irene in Istanbul for a VIP audience of international dignitaries, live TV audience and recording for DVD sales through ABC stored as well as the Australian Premiere of the same at the Queensland Performing Arts Centre. This experience has seen approximately 100 Terracians visit and reflect upon Old Boy Terracians who fought for 'Queen and Country' 101 years ago, alongside visiting graves and learning more about the heroism of distant family members.
I wish to thank you and your team for providing a tour experience that allowed us to experience the wonderful diversity of Turkey and the emotion of Gallipoli. Once again, thank you."
Dr Michael Carroll
College Principal
St Joseph's College Gregory Terrace
"Hi John, I have a few things in this email. The first is a huge thank you to you. Thank you for all the work you did pulling the Study tour together for the College. It was extraordinary! Thank you.
Secondly, Rodney!!!! What an extraordinary man. I would like to put in writing what an asset he was to the trip and just how much his presence, knowledge, expertise and conversations with the parents, staff, students and the dealings of ongoing and difficult situations will never be forgotten. He left quite an impact on everyone is the most profound and life changing way. While I have expressed this to the College and to Rodney himself, I feel it is essential that you also know this. Although, I am quite certain that it isn't the first time that you have heard this. What a blessing he was to our College! Thank you again John and have a wonderful week."
Amelia McMurray
Primary Teacher & Stage 2 Co-ordinator
Penrith Anglican College
Our tour members depend on us to provide a once in a lifetime battlefield experience combined with exceptional customer service. We do our best to meet and exceed their high standards, which is what you'd expect from Australia's leading battlefield tour company. Please review our long list of testimonials to see what our tour participants have to say.