Gallipoli Bike Tour 2015
Honour the past so we can live today…
Every now and then we come across some truly inspirational stories about our fellow Aussies that are out there making a difference in the world.
One of the more interesting stories that is still in the making is about Stuart Wilson and Doug Marr, who plan to ride their motorbikes from London to Gallipoli raise money for Legacy and to help commemorate the centenary of the landing at Gallipoli Cove in 2015.
The ride is open to all motorcycle enthusiasts who want to join in this epic journey across 12 countries in hope to raise $1 million for Legacy – a worthy cause dedicated to caring for the widows and dependants of deceased servicemen.
Doug and mate Stuart, an army veteran who has completed three tours to Iraq and one to Afghanistan last year, are determined to ride across Europe to honour the memories of the Australian, New Zealand, Turkish, British, French Indian and any other soldier who so gallantly fought on the Gallipoli shores.
The campaign has already started, with a trip to Gallipoli last year to attend the Dawn Service at Anzac Cove. Our team at Boronia Travel Centre were only too pleased to help out with entire trip and escorting Doug and Stuart around the battle sites to learn their significance.
Following a conversation with the Hotel Kum owners, Doug has committed to upgrade their electrical services to better accommodate the hordes of people expected to arrive in 2015. As the hotel has extensive fields and campground facilities, this will be a perfect area spot to call home for a short time. Being a Project Manager for an electrical construction company, it seems that Doug has a knack for good business too. Hopefully he'll uncover a few more mutual opportunities in lead up to the event.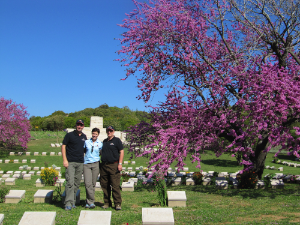 The recent trip to Gallipoli certainly made an emotional impact on these two men. In Doug's words, "The sacrifices made by the Australian and New Zealand men at this one site really has forged the spirit of our two countries together forever more. It has become a pilgrimage or a right of passage for us all to experience and one that is abound with rewards that you will take away for the rest of your life."
If you are not family with the Gallipoli campaign then Take the Tour and read about the cast of characters that are bringing this great event to life.
Donating is easy and takes less time than making a cup of coffee. A donation page has been set viagra sans ordonnance up at mycause.com. This will allow you to donate money directly to Legacy and leave a message for others.
Boronia Travel Centre is proud to support this great cause. To follow Doug and Stuart's adventure and to be inspired by this great Australian Story please visit gallipolibiketiour2015.com