Boronia Travel Centre is a family owned business that has become Australia's leading battlefield tour provider.
For over 20 years, Boronia Travel Centre have specialised in battlefield tours to Gallipoli, the Western Front and Vietnam. These tours are the most informative and in depth tours available, and are specifically designed by the Australian War Memorial historians and curators. They are both a commemorative and educational journey into an important part of our nation's history, and for some, a personal pilgrimage.
The tours are lead by some of Australia's most experienced and respected military historians who have travelled and written about these battlefields for over 20 years. Their knowledge is unsurpassed and with the resources available to them, they are able to assist with any family research you may be doing.
The team at Boronia Travel Centre are the most experienced and knowledgeable tour operators from Australia. They all visit the battlefields regularly and can assist with any inquiry you may have. This means that the person you book your travel with will often be travelling with you overseeing the tour. No other battlefield agent can offer this real point of difference which ultimately benefits you, our valued customer.
Boronia Travel Centre prides itself in offering a very personalised and professional service to all of their customers. We cater for all ages, and unique requirements of travellers and can personally tailor your travel experience or group tour with our very unique and exciting travel options. Plus we are willing to go that extra mile to ensure you have the experience of a lifetime.
We're also Experts in Leisure Travel
We don't just specialise in battlefield tours. Our experienced travel consultants have travelled the world and have experience in specific regions, travel styles, and all different travel types. Plus, with our vast network of travel partners we can organise anything to suite your needs, including cruises, coach tours, accommodation, car hire and virtually any special travel request.
We'll save you time
Booking your entire trip online can be really time consuming. Just think about connecting flights and transfers, picking the perfect hotel or resort (and trusting the online reviews). Even deciding on the best tour operators and managing all of the other tasks of building a trip can be daunting. Let Boronia Travel take care of the finer details so you can focus on the fun stuff.
The Best Deals
When working with Boronia Travel you benefit from the personal connections of our experienced consultants and the helloworld brand for insider knowledge, custom itineraries and special promotions. We'll also save you money, often a lot of money, rather than you trying to do it all yourself.
Personal Touch
Do you like dealing with an online booking system, or talking to a voice operating machine? Our clients certainly don't! That's why Boronia Travel offers the personal touch, which means you have access to an experienced travel consultant that provides insights, recommendations and support before, during, and after your trip.
Worry Free
As passionate and experienced travellers ourselves, we understand what goes into making a great trip and have always gone the extra distance to make sure your holiday is your best one yet. Our dedicated travel agents will oversee every last detail of your itinerary, so all you need to do is relax and enjoy the journey.
Travel with Confidence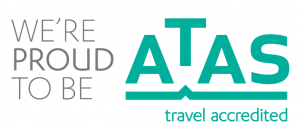 We all know that researching your next trip is an exciting stage in your travel plans. But did you know that you are not protected if you personally book your holidays and something went wrong while you were away?
That's why booking with an ATAS accredited agent, like Boronia Travel Centre, means you're in safe hands and can travel with confidence.
If you ever experience a problem while travelling, Boronia Travel Centre can act on your behalf as your personal travel advocate. If your flight is delayed or cancelled, if you need to reschedule, if a supplier ceases to trade, or a natural disaster or personal accident occurs, we can provide support and assistance in a timely manner.
You can book your travel with Boronia Travel centre knowing you're in the safe hands and that we are a trusted and reputable travel agent that has been around for more than 35 years. Plus we'll always give you the 'personal touch' to make sure your holiday is the best one yet.
On behalf of Boronia Travel Centre, we look forward to having you join us on one of our truly memorable battlefield tours.
Please contact us today to find out more information about traveling with Boronia Travel Centre, or call 1800 035 350.