Africa is Stunning From Sea to Sky
By John Waller at Boronia Travel
Hello everyone, I thought I would share one of the most wonderful holidays I have ever had - four weeks in Africa! There's nowhere like it on the planet for wildlife, wild lands and rich traditions that endure. Prepare to fall in love as I did… My wife Sue and I were invited to join Christine and her husband Steve and our two granddaughters on their family safari to Kenya and Tanzania. Before joining them in Nairobi, we spent five days in stunning Cape Town, and it was a great place to start with the backdrop of Table Mountain.
We then took a two-night journey on the luxurious Blue Train to Pretoria, just outside Johannesburg. It's a 1600 kilometre journey in one of the world's most famous trains, and was truly memorable as we kicked back and watched the South African countryside in style. After a day in Johannesburg we flew to Nairobi where we joined our family to begin two wonderful weeks of touring.

We visited the National Parks of Samburu and Serengeti, the National Reserve of Maasai Mara and the beautiful Ngorongoro Conservation area where we saw not only the "big five", but the never to be forgotten annual migration of thousands of wildebeest, elephants and zebra cross the Mara and Talek rivers while traversing the grassy plains and rolling hills.
We saw lions, cheetahs, hippos and some of the largest crocodiles I have ever seen, just waiting on the waters' edge for dinner to come walking by. To see these mostly endangered animals in their natural habitat was an experience never to be forgotten. We also took an morning balloon ride over the Serengeti plains to see the early morning movement of so many animals to the rivers and water holes, before they moved on again.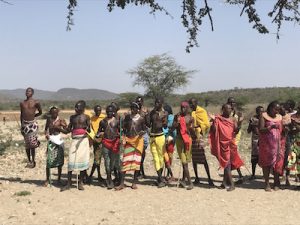 On our journey we visited two Maasai villages to see how these famous warriors still survive in their natural environment. To see our granddaughters faces was something I will never forget! The accommodation in the parks is absolutely beautiful, with all meals of a very high standard, some with unbelievable views over the plains below.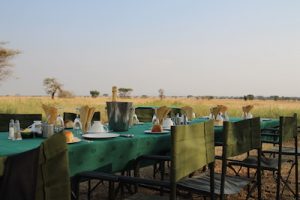 It is impossible to describe the beautiful sunrises and sunsets you see every day. It's something we will never forget. And so many photos of the iconic Acacia tree with the sun setting behind, just typifies to me, the beauty of the plains. Our highlight experience was a private bush dinner at Serengeti, set up out in the bush with six staff and two guards with guns, just in case! There was a brilliant fire and lamps all around, which made another wonderful moment for us all to experience together.
We then bid farewell to our family on return to Nairobi, and flew to Victoria Falls for a few days' rest. Taking its place alongside the Pyramids and the Serengeti, Victoria Falls is one of Africa's original blockbusters. And although Zimbabwe and Zambia share it, Victoria Falls is a place all of its own and definitely a must see! After spending some seven lovely days in Mauritius, we then travelled to Dubai for a first time stopover where we did the "must do" dinner in the desert and four wheel drive. Although at 45c, it was a little uncomfortable, but I still highly recommended it. We then finally did another stopover in Singapore, and after not visiting for nearly 30 years, what a change! It's a beautiful modern city and an architect's dream, with modern buildings of every size and shape. A final dinner atop the now iconic Singapore landmark of Marina Bay Sands, topped off an unforgettable six weeks holiday. I can sincerely recommend Africa to be included on anyone's bucket list. South Africa is one of best value for money destinations I have visited in many years, and has great accommodation and wonderful food options. Christine is currently finalising an exclusive tour to Africa for limited group of our clients, and with many already registered anyone interested should contact her as soon as possible. For more information please call Christine on
1800 035 350
or email
christine@boroniatravel.com.au