New Premium Economy Class Review for Singapore Airlines
By Benjamin Hayes, Boronia Travel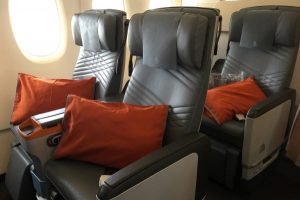 In July I was lucky enough to travel to Europe to co-ordinate the 3 groups we had on the ground for the Centenaries of The Battles of Fromelles and Pozieres. As normal I was booked to fly with our favourite airline, Singapore Airlines, and was going to be the first person in the office to try their new Premium Economy Class. Premium Economy is relatively new product with Singapore Airlines being rolled out progressively across their network from the second half of 2015. Currently out of Australia it only operates on 1 service a day from Sydney and on a more ad-hoc basis from Melbourne but is available more widely on services from Singapore to Europe. So most Australian travellers would fly Australia-Singapore-Australia in Economy and then Singapore-Europe-Singapore in Premium Economy which is indeed what I was booked to do. This works very well as it is easy to cope in Economy on the relatively short sectors between Australia and Singapore especially if you prefer to spend the USD $60 for each flight to have an exit row seat on these flights like I did. My first experience of Premium Economy was going to be on flight SQ 336 from Singapore to Paris operated by an Airbus A380, an aircraft many travellers love to travel on. Unfortunately it turned out be an anticlimax due to a late aircraft change the flight was operated by an A380 not configured with Premium Economy Class. Instead I was allocated 3 seats to myself at the front of the Economy Cabin as where the 2 other tour participants travelling with me. I can't say for certain if this was done on purpose but it was certainly a nice touch and meant I got a good 6-7 hours sleep on this overnight flight. Once all the tours where successfully completed I boarded the Thalys fast train from Paris Nord to
https://www.viagrasansordonnancefr.com/viagra-en-ligne/
Amsterdam Schiphol Airport for what was a very relaxing 3 hour trip. The reason for travelling to Amsterdam was so that I could travel on Singapore Airlines new Airbus A350 (the Airbus equivalent to the Boeing 787 Dreamliner) which the airline has only started operating between Singapore and Amsterdam on 09 May 2016. After a very pleasant night at the new Hilton Schiphol it was time check-in for SQ 323 back to Singapore.
Amsterdam Schiphol has the reputation of being
https://www.acheterviagrafr24.com/acheter-viagra-en-ligne/
very comfortable Premium Economy seat on a brand new Airbus A350. There wonderful sense of space due to the high ceilings and plenty of space for hand luggage in large overhead lockers. The seat itself was well designed with an inch or two more width and 6 inches more seat pitch compared to the Economy Class. So no fighting for the shared arm rest and plenty of room for me (I am 6ft tall) to cross my legs. The small separate cabin of 24 seats had a lovely exclusive feel which was enhanced by the nice touches, such as proper Champagne and good noise cancelling headphones to better enjoy the Singapore Airlines excellent entertainment system KrisWorld.