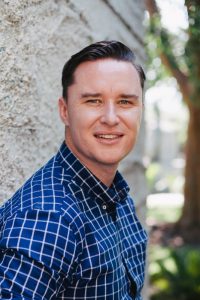 Dr Aaron Pegram is a Senior Historian in the Military History Section at the Australian War Memorial where he is both the Lambert Western Front Fellow and the Memorial's First World War centenary historian. A tour leader and historical guide to the Western Front battlefields, Aaron's written works include For Valour: Australians Awarded the Victoria Cross (with Craig Blanch, NewSouth Publishing, November 2018) Beyond Surrender: Australian Prisoners of War in the Twentieth Century (co-edited with Joan Beaumont & Lachlan Grant, Melbourne University Press, 2015) and Both Sides of the Wire: The Memoir of an Australian Officer Captured in the Great War (Allen & Unwin, 2011).  He regularly appears on radio and television, including the television documentary series In their Footsteps (Channel 9, 2011), Who Do You Think You Are? (SBS, 2014-15) and The Memorial: Beyond the Anzac Legend (The History Channel, 2015). He has a BA (Hons) from Charles Sturt University, a PhD from the Australian National University, and lives near Canberra with his wife and infant son.
"The main purpose of this note is to thank you for your part in making our recent Western Front 2014 Tour such an inspiring, informative and memorable one. Thank you very much for the research you did before our tour Aaron Pegram, not only on my relative but also on all the others. Hearing their stories and seeing their resting places did give an extra dimension to the battlefield and strategy explanations you gave us. Thank you again, and very best wishes to you for your ongoing work at the memorial.
Rosemary and Leighton Smith, O'Halloran Hill, SA
"After an extra week in St Malo, Jersey and Paris, we missed being looked after and it was a shock to have to think about things instead of being guided so well by Aaron Pegram and John Waller. We really enjoyed our Battlefield Tour thanks to you and John being so organised and calm.
We learnt so much from you and it was wonderful to share the stories from other descendants.  I congratulate you on the very efficient manner in which you remembered everyone's special battlefield place, and how you helped us to pay our respects. It made it very special.
I do hope that you had a safe trip home. Many thanks for looking after us so well and for all the wonderful times we had on our tour. Regards and all the best."
Sandra Walker
"I would like to thank both Aaron Pegram and John Waller for making the 2014 Western Front Battlefield Tour a wonderful and memorable experience. Your enthusiasm for the trip was I believe appreciated by everyone.
Aaron, your expert knowledge and your dedication to research everyone's personal interests 'made' the trip. You were able to put the WW1 battles (both general and specific) into context. 
John, your friendliness and attention to detail made the trip very enjoyable and satisfied all my expectations. Best wishes and many thanks."
Alan